It started with a book.
Born from an idea for a book in 1994, Earth From Above emerged from Yann Arthus-Bertrand's dream to report a survey on the state of Earth at the eve of the 21st century. It was a humble yet audacious goal requiring significant means, conviction and perseverance, brought to fruition through passion, resolve and extensive teamwork.

"Year 2000 was almost upon us, and I wanted to tackle an ambitious long-term project. Since working with lions, nature had been one of my chief concerns, though back then I was less committed to sustainable development and more interested in the preservation of exceptional sites. Working on location soon made me realize that man cannot be dissociated from our landscape. Gradually, I became convinced that supporting sustainability theories would be the way toward a reasonable and sensitive approach to development."


Nobody believed in the project at first. Two hundred letters sent to potential supporters remained unanswered. After years of meeting with partners who would eventually champion the importance of such an enterprise, the team assembled the logistical and financial support to start working. Patronage included the United Nations Educational, Social and Cultural Organization (UNESCO), which invited the team to fly over select countries to survey and document. Club Med then commissioned a book on its holiday villages seen from the air. More help came through the production of books including Kuwait From Above, Morocco From the Air, and magazine photo stories for aerial subjects. FujiFilm eventually joined the project with free film and processing, and Arthus-Bertrand borrowed money and invested his own.


In early 1999, Arthus-Bertrand started having reservations ("having doubts is second nature to me"). He felt that he wasn't ready to publish and wanted to spend one more year flying and collecting perspectives. The publisher, Hervé de La Martiniere, would insist that he meet the deadline, but eventually agreed to allow Arthus-Bertrand to finalize his work and name the book's price for accessibility.


The book met with immediate success. It was eventually translated into over 21 languages and sold over 3 million copies worldwide, while becoming a popular reference for its content and catalyst for other programs and projects. As a successful traveling public art exhibition and television series, it would inspire a theatrical full-length film to be released worldwide in 2009.


To date, the team has traveled to over 150 countries, photographed thousands of sites, and continues to invest a great deal of time and energy into the project's success. Each photograph continues to be captioned by "L'Etat du Monde," the scientific team of ecologists and sustainable development experts.


The power of a photograph.


If some photographers aim at leading us into their own world, the Earth From Above team endeavor to show us the world we live in. Their subject is the planet and all of its inhabitants, captured with humility and curiosity in a portrait to which the onlooker relates. Meaning prevails over formal beauty, and a good photograph, with the power to challenge, advise and move us, is arguably more effective than simply a beautiful image.


As a documentary, the photographs impose an importance onto its texts in an effort to provide an educational dimension to the project. Resolutely optimistic, the result is a powerful message to dig deep into ourselves, and our ability to care about and take responsibility for each other and our home.

Images from previous exhibits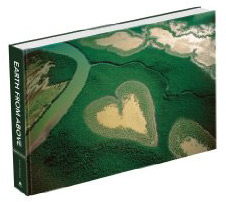 One of many books by Yann Arthus-Bertrand
read more

<